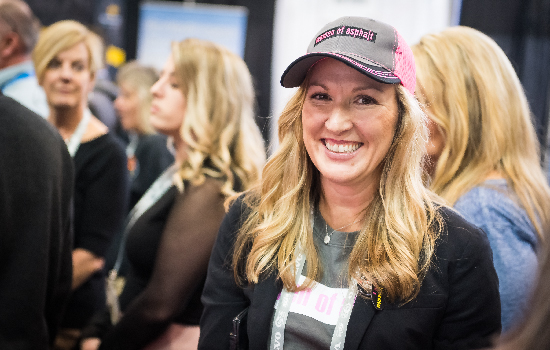 MILWAUKEE – World of Asphalt, the leading asphalt trade show and conference coming to Nashville, Tenn. from March 29-31, 2022, has selected twenty asphalt companies to receive $500 toward attending the show in honor of its 20th anniversary.
The selected companies can be found from Miami to Santa Cruz, from the Big Easy to the Twin Cities, and range from 2 to 4,200 employees.
"We wanted to give something back to the attending companies that make World of Asphalt possible as we celebrate our twentieth year this year," said Show Manager Brittany Weltcheff.  "We originally planned to help them attend the 2021 show, but the pandemic prevented us from gathering like we planned. We can't wait to see these asphalt paving professionals in Nashville next year."
To see a list of the companies selected for this award, visit Honor20. While you're there, register for the World of Asphalt People, Plants and Paving On-Demand education sessions, and check out World of Asphalt as it makes its way to Nashville in 2022 at the Music City Center.
About World of Asphalt
Held every year except during CONEXPO-CON/AGG years, World of Asphalt is the leading trade show and conference focused on the asphalt and paving industries. The World of Asphalt People, Plants and Paving Digital Conference runs March 9-11, 2021. World of Asphalt returns to the show floor March 29-31, 2022 at the Nashville Music City Center. The show features the best education, and latest equipment, products, services and technologies for the asphalt and paving industries. The show is owned by the National Asphalt Pavement Association, Association of Equipment Manufacturers, and National Stone, Sand & Gravel Association. For more information on World of Asphalt, visit https://www.WorldOfAsphalt.com.
About the National Asphalt Pavement Association (NAPA)
The National Asphalt Pavement Association (NAPA) is the only trade association that exclusively represents the interests of the asphalt producer/contractor on the national level with Congress, government agencies, and other national trade and business organizations.  NAPA supports an active research program designed to improve the quality of asphalt pavements and paving techniques used in the construction of roads, streets, highways, parking lots, airports, and environmental and recreational facilities. The association provides technical, educational, and marketing materials and information to its members; supplies product information to users and specifiers of paving materials; and conducts training courses. The association, which counts more than 1,200 companies as members, was founded in 1955.
About the Association of Equipment Manufacturers (AEM)
AEM is the North America-based international trade group representing off-road equipment manufacturers and suppliers with more than 1,000 companies and more than 200 product lines in the agriculture and construction-related industry sectors worldwide. The equipment manufacturing industry in the United States supports 2.8 million jobs and contributes roughly $288 billion to the economy every year.