World of Asphalt Celebrates 20th Anniversary in a Big Way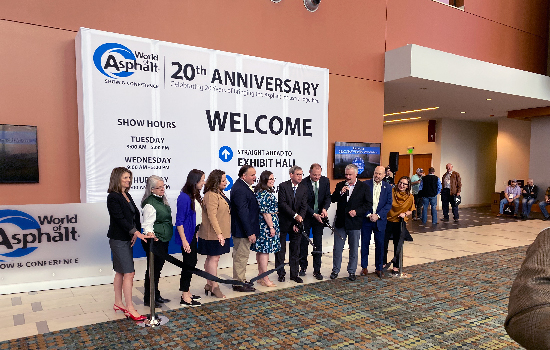 NASHVILLE, Tenn. – Asphalt paving and aggregates professionals filled in a sold-out Music City Center exhibition floor in Nashville as World of Asphalt's 20th Anniversary and AGG1 brought the industry back together. Organizations from across the country, including Rogers Group, Inc. and Milestone Contractors sent representatives ranging from C-Suite executives to field operators, to view specialized exhibits and product unveilings, take in the latest education offerings, learn about the latest innovations in the asphalt and aggregates industries and make purchasing decisions.   
Running March 29-31, 2022, this year marked the fourth return of World of Asphalt to Nashville, and the largest iteration of the show in the Music City ever, with more than 440 companies spread across more than 193,000 net square feet of the Music City Center.
Edgar Chavez, North American President of ALLU Group, says their team had a successful exhibit.
"This is our first time attending World of Asphalt," said Chavez. "During the first day we had more than fifteen qualified leads with $250,000 in orders. This is a great show with a targeted audience. We will definitely be back next time."
"We're so proud of the teams that came together to put this event together after the longest hiatus in its history," said Brittany Weltcheff, show manager for World of Asphalt. "As a result, we were able to bring together more than a record-breaking 11,400 asphalt paving and aggregates professionals to learn, experience everything that's new and important in our industries and make more than 30,000 connections."
Dr. Audrey Copeland, president and CEO of NAPA, majority-owner of World of Asphalt, echoed Weltcheff's comments.
"The last time World of Asphalt and AGG1 came to Nashville, in 2016, we sold approximately 150,000 net square feet of space in the Music City Center," said Dr. Copeland. "The fact that we were able to use every single square foot of exhibit space the Music City Center had to offer this time, while safely bringing the manufacturers and end users together, speaks volumes about the strength of the asphalt paving industry."
"The record-breaking attendance at this AGG1 Academy & Expo and the co-located World of Asphalt shows the enthusiasm of the aggregates industry to be back in-person again.  Each day the tradeshow floor and educational opportunities have been fully attended. We are thrilled to provide this top-notch experience for our exhibitors and attendees as we return to fully in-person events," said National Stone, Sand and Gravel Association President & CEO Michael Johnson.
Education at both World of Asphalt's People, Plants and Paving Conference and the AGG1 Academy broke records as well. The two most popular sessions were "Compaction 101: Doing the Right Things the Right Way" and "Best Practices for Residential and Commercial Paving."
"The networking opportunities at World of Asphalt are invaluable for attendees and fellow exhibitors," said Kevin Kelly, NAPA lifetime member and 2022 chair of World of Asphalt. "We pride ourselves on being able to provide the kinds of connections to our members that help them grow their businesses and careers, and those connections can only come at events like World of Asphalt."
"We actually met a lot of great people as far as getting information we needed. Not just products, but people we can call and talk to about experiences we've had and see if they've had that same problem," said Larry Gage, a plant operator for J. Hutchins, Inc. in Irasburg, Vt. "I would definitely come back, and I think our boss would have us come back as well."
Bill Stanley at Danbury, Conn., -based American Pavement Specialists, and one of the producers of the Raised on Blacktop social media world, says meeting people in the industry and discovering new products and ideas are the best things about World of Asphalt.
"World of Asphalt is the largest network tool you can find in the pavement industry," said Stanley. "If anyone wants to learn about asphalt, or wants to grow their paving company, whether you're talking asphalt, roads, dirt, or you're talking about finding a chemical that works for you, this show pays for itself."
The first World of Asphalt was held in February 2001 at the Wyndham Palace Resort in Orlando, Fla. as a cooperative effort between the National Asphalt Pavement Association (NAPA) and the Association of Equipment Manufacturers (AEM), and has run every year except CONEXPO-CON/AGG years since. The show has grown quite a bit in twenty years. The 2001 show had 3,200 asphalt paving pros seeing 28,000 square feet of displays from 86 exhibitors.
Mark your calendar: World of Asphalt will return to Nashville and the Music City Center March 25-27, 2024.
About World of Asphalt
Held every year except during CONEXPO-CON/AGG years, World of Asphalt is the leading trade show and conference focused on the asphalt and paving industries, whose most recent edition was recognized by Trade Show Executive as one of the "Fastest 50" growing trade shows. The show features the best education, and latest equipment, products, services and technologies for the asphalt and paving industries. The next World of Asphalt, co-located with the AGG1 Academy & Expo, will be held arch 25-27, 2024 at the Music City Center in Nashville, Tenn. World of Asphalt is majority owned by NAPA and partially owned by AEM, who produces the show. For more information on World of Asphalt, visit www.WorldOfAsphalt.com.
About the Association of Equipment Manufacturers (AEM)
AEM is the North America-based international trade group representing off-road equipment manufacturers and suppliers with more than 1,000 companies and more than 200 product lines in the agriculture and construction-related industry sectors worldwide. The equipment manufacturing industry in the United States supports 2.8 million jobs and contributes roughly $288 billion to the economy every year.
About the National Asphalt Pavement Association (NAPA)
The National Asphalt Pavement Association (NAPA) is the only trade association that exclusively represents the interests of the asphalt producer/contractor on the national level with Congress, government agencies, and other national trade and business organizations. NAPA supports an active research program designed to improve the quality of asphalt pavements and paving techniques used in the construction of roads, streets, highways, parking lots, airports, and environmental and recreational facilities. The association provides technical, educational, and marketing materials and information to its members; supplies product information to users and specifiers of paving materials; and conducts training courses. The association, which counts more than 1,200 companies as members, was founded in 1955.
About the National Stone, Sand and Gravel Association (NSSGA)
NSSGA is the leading advocate for the aggregates industry. Its members – stone, sand and gravel producers and the equipment manufacturers and service providers who support them – produce the essential raw materials found in homes, buildings, roads, bridges and public works projects, NSSGA represents more than 90 percent of the crushed stone and 70 percent of the sand and gravel produced annually in the United States. Learn more at http://www.nssga.org.