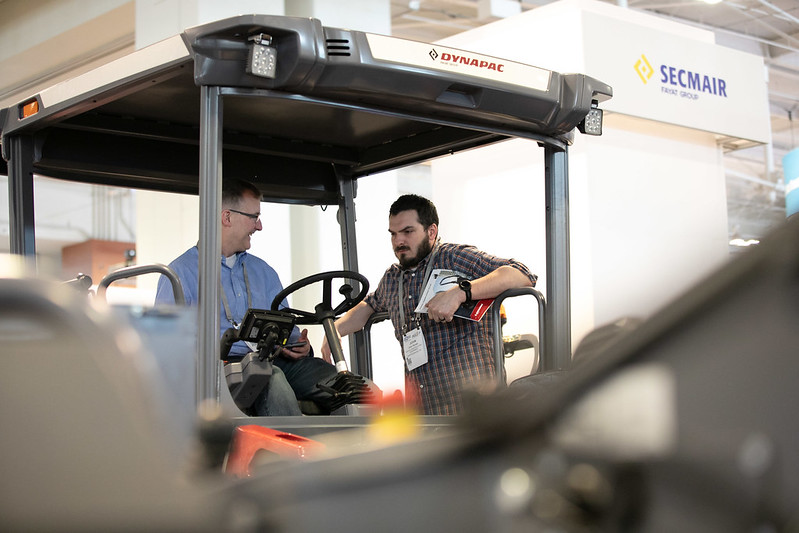 MILWAUKEE – Jeani Ringkob founded StoryBuilt Growth Strategy & Marketing after nearly a decade in the asphalt paving business and has helped several businesses grow and develop in the construction world. In her talk at World of Asphalt 2022, "Overcoming the Bottleneck in Your Business: How to Identify It Fast and Fix It Right, Every Time," she explained that businesses are a lot like airplanes.
Ringkob explained in Nashville that both businesses and airplanes require constant attention, regular maintenance, periodic enhancement and dutiful repairs to keep themselves up in the air. Identifying bottlenecks in a business is just as important as identifying faults on an airplane: Failing to do so could result in a crash.
Ringkob broke the anti-bottleneck process down to three stages:
Identify
Investigate
Implement
When it comes to identifying bottlenecks, she said a lot of it comes down to examining decision making. Are the business's leaders making the right decision at the right time? If not, she explains that can lead to wasted resources, missed opportunities, mediocre employees, costly mistakes…bottlenecks.
The reason inefficient decision making can lead to bottlenecks is that it can take leadership's focus off growth, confident decision making, investment, new products, and more, and instead force leaders to focus on survival. Successful businesses focus on growth, stalled companies focus on keeping the lights on tomorrow.
Once the problem is identified, Ringkob says the next step is to investigate what has been found. Was alignment found between company, product, and customer? What was found about the company's strengths and weaknesses, and those of the competition? What does the company's pre-purchase, purchase, and post-purchase strategy look like? What can be done to improve what has been found?
What ever the investigation has found to be a potential solution to the identified bottleneck, that solution is going to need to be implemented strategically. Ringkob recommends the "O.M.E.N." test.
Objective: Set the result the business intends to achieve.
Measurement: How will progress be measured?
Evaluation: The frequency at which measurement will be reviewed.
Nurture: How the business will tweak things as new data comes in.
Ultimately, Ringkob emphasized a lot hinges on communication. She says the communication must be simple, and it must work, both internally and externally.
For more from Jeani Ringkob, she will present on "Recruiting and Retaining Top Talent at Every Level" and "Strategic Decision Making for Increased Margins" at CONEXPO-CON/AGG, running March 14-18, 2023 at the Las Vegas Convention Center. CONEXPO-CON/AGG offers entire education tracks to help businesses "Attract, Engage & Retain Talent" and "Business Best Practices." Visit conexpoconagg.com to learn more.
About World of Asphalt
Held every year except during CONEXPO-CON/AGG years, World of Asphalt is the leading trade show and conference focused on the asphalt and paving industries, whose most recent edition was recognized by Trade Show Executive as one of the "Fastest 50" growing trade shows. The show features the best education, and latest equipment, products, services and technologies for the asphalt and paving industries. The next World of Asphalt, co-located with the AGG1 Academy & Expo, will be held March 25-27, 2024 at the Music City Center in Nashville, Tenn. For more information on World of Asphalt, visit www.WorldOfAsphalt.com.
About the Association of Equipment Manufacturers (AEM)
AEM is the North America-based international trade group representing off-road equipment manufacturers and suppliers with more than 1,000 companies and more than 200 product lines in the agriculture and construction-related industry sectors worldwide. The equipment manufacturing industry in the United States supports 2.8 million jobs and contributes roughly $288 billion to the economy every year.
About the National Asphalt Pavement Association (NAPA)
The National Asphalt Pavement Association (NAPA) is the only trade association that exclusively represents the interests of the asphalt producer/contractor on the national level with Congress, government agencies, and other national trade and business organizations. NAPA supports an active research program designed to improve the quality of asphalt pavements and paving techniques used in the construction of roads, streets, highways, parking lots, airports, and environmental and recreational facilities. The association provides technical, educational, and marketing materials and information to its members; supplies product information to users and specifiers of paving materials; and conducts training courses. The association, which counts more than 1,200 companies as members, was founded in 1955.