Don't miss this opportunity: What you need to know to grow your business   
From paving and plant performance best practices to safety and sustainability to the latest technology and workforce development strategies, the 2019 World of Asphalt Show & Conference brings it all together with education to help asphalt industry professionals grow their businesses and their careers.
"There's so much happening in our industry today that professionals really need to stay alert to the latest issues and trends affecting their job performance and their companies' growth," said Megan Tanel, World of Asphalt show director and AEM senior vice president, exhibitions and events.
"Don't miss this great opportunity: attend World of Asphalt and take advantage of all the show has to offer with such a wide array of industry education as well as all the exhibits and the networking to help you stay connected."
The 2019 World of Asphalt Show & Conference takes place Feb. 12-14 at the Indiana Convention Center in Indianapolis. The show co-locates with the AGG1 Academy & Expo, offering attendees access to even more education, exhibits and networking. One registration covers entrance to both shows.
New 'Rock'n'Road Talks' Stage – 'Grab & Go' Knowledge   
New for 2019 are Rock'n'Road Talks at a centrally located stage on the show floor. All you need is your show badge: Stop by for 20-30 minute sessions by industry leaders on a variety of hot topics including:
The Deal of a Lifetime: Capitol Hill's Infrastructure and Workforce Development Opportunity, with senior leaders from AEM, NAPA and NSSGA sharing a cross-industry perspective on challenges and opportunities for our D.C. leaders as they address a prospective 2019 infrastructure package
Seasoned but Not Too Salty: Young Leaders Panel, discussing the changing role of technology, opportunities with the multi-generational workforce and where they see the industry headed.


 Equipment Trivia Challenge, a fun session where you can prove your equipment expertise (and learn how you can win a trip to CONEXPO-CON/AGG). Bonus: get up to speed on the new CONEXPO Connect digital platform providing a better way to research construction equipment


Inspiring Youth to Pursue Careers in Construction, exploring a variety of options to help you develop your future workforce (a key to your company's prosperity)
 View the schedule here.   
Industry Experts Know Your 'Pain Points' & Share Their Insights
World of Asphalt's signature People, Plants and Paving Conference is known for its dynamic mix of seasoned industry experts who share their real-world knowledge in new as well as 'back by popular demand' sessions.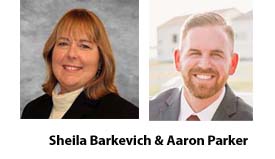 Here's a snapshot look at just a few of the topics that will be offered:
Improving Community Relations for Asphalt Companies is the focus of Sheila Barkevich (Callanan Industries, a CRHC Company) and Aaron Parker (Silver Star Construction)


Larry Kokkelenberg, Ph.D. discusses leadership in 10 Commandments for Supervision and Top 10 Reasons Construction Businesses Fail


David Arvin of Visibility International concentrates on gaining and keeping customers in Customer Experience is the New Competitive Advantage and It's Not Who You Know, It's Who Knows You


Shane Buchanan of CRH Americas Materials targets Mixture Design (Part 1 Creating the Balance and Part 2 Maintaining the Balance)
Troubleshooting Plant Operations (Part 1 Gradation including baghouse fires and Part 2 Asphalt Content) is the focus of TJ Young (Technical Training & Advisory Services)
Compaction 101, Doing the Right Things, the Right Way with Dale Starry (Volvo Construction Equipment)
Understanding the Use of Rejuvenators with Grant Wollenhaupt and Jess Hughes (Superior Bowen)


Innovations in Work Zone Safety with Andy Welch (Maxam Equipment)


Everything You Need to Know About Chip Seals and Fog Seals Distributors with Brian Horner (E.D. Etnyre & Co.) 
Dale S. Decker of Dale Decker LLC with Best Practices in Application of Tack Coats and Best Practices for Pavement Patching
Choose the sessions that best fit your needs from five tracks; view the schedule here.
Bonus: World of Asphalt attendees can also access multiple learning opportunities of the co-located AGG1 Academy & Expo from National Stone, Sand & Gravel Association (NSSGA). Sessions are arranged by tracks covering operations and production; automation, technology and software; environment, safety and health; and business management and leadership. View details at AGG1.
Check the show website for full session details and to register – World of Asphalt.